Revolutionise your customer screening with the latest release of Ripjar's Labyrinth Screening platform, featuring ground-breaking new AI Risk Profiles.
This game-changing development uses sophisticated machine learning, natural language processing and graph analytics to generate person and company-specific risk profiles for significantly improved accuracy, effectiveness and efficiency in the fight against financial crime.
With 80% of the AI Risk Profiles also enriched with additional secondary identifiers, Labyrinth Screening now offers unparalleled accuracy and reduced false positives, including across standard watchlists.
Read on to learn more about how Ripjar's new AI Risk Profiles can benefit your organisation.
What are AI Risk Profiles?
Labyrinth Screening's new AI Risk Profiles have been developed to save analysts time and increase accuracy when screening for adverse media, watchlists, sanctions and PEPs.
This industry-leading innovation reviews all relevant data from both structured and unstructured sources to build discrete profiles for individuals and organisations, reducing false positives and significantly improving analyst efficiency.
Rather than showing every news article, advanced natural language processing is used to extract the most relevant items necessary to give a clear and complete view of relevant risks as quickly as possible.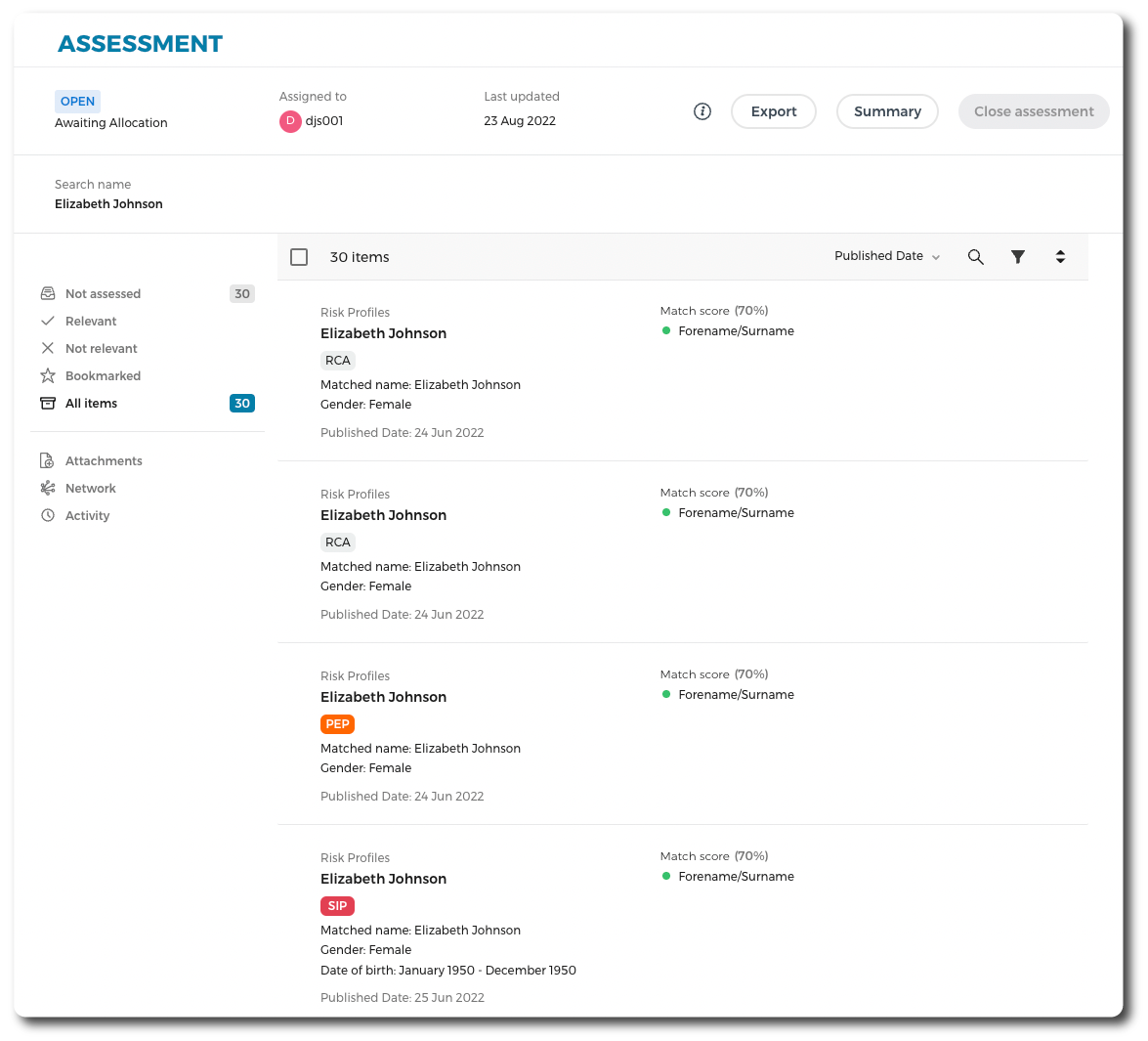 How can your organisation benefit from AI Risk Profiles?
Identifying risk in your client portfolio is a huge challenge. Customer data can be limited and problematic, while media data can be noisy and imprecise. Many screening methods generate a large number of false positives, struggle to achieve accuracy at scale, and put a significant time burden on analysts.
AI Risk Profiles are designed to address these challenges directly, and offer a number of benefits which will help improve your screening accuracy and operational efficiency.
Identify risks you might otherwise miss
AI Risk Profiles help ensure your organisation's regulatory compliance by identifying risks other screening methods might miss. AI-powered multi-lingual name matching and entity resolution are used to overcome screening challenges such as common or high profile names.
Powered by the Ripjar Knowledge Graph, this latest version of Labyrinth Screening provides global, multi-jurisdictional screening which adds unprecedented additional context to profiles.
By separating out the matches into distinct profiles, analysts can quickly assess if the risky person or company in the news is their new or existing customer. Importantly, once an analyst has marked a specific profile as not being relevant, new alerts will not be generated unless there is a significant change to the client match, eliminating significant operational costs.
Common Names
Clients with common names can be incredibly difficult to screen reliably due to the frequency with which their names appear and the resulting volume of non-relevant data. Traditionally, screening such names requires searching through huge quantities of data and can feel like looking for a needle in a haystack. Risks are missed as a direct result.
With AI Risk Profiles, analysts can identify potential matching profiles from a condensed set, and then quickly review those items marked as a priority, cutting through the noise to access the relevant information.
High Profile Names
Individuals such as politically exposed persons (PEPs) can generate enormous quantities of news, obscuring data on those with similar or identical names. Because AI Risk Profiles segment out recognisable entities, risk associated with customers who share high profile names can easily be differentiated and understood.
Imagine you have a client called David Cameron, who is not the former British Prime Minister. This is a common name, and also a famous person and PEP, making it hard to assess risk in the noise of articles that will be overwhelmingly about the politician. With Ripjar's AI Risk Profiles, you'll find a list of different David Cameron profiles with whom risk is associated, making it quicker and easier to identify and assess the correct one.
Achieve accuracy at scale with more secondary identifiers
Ripjar already leads the article-based screening market with unparalleled data classification and entity resolution. The new AI Risk Profiles add an extra technology layer on top of this, combining data together in a way that makes it even more useful to your organisation.
This latest evolution of Labyrinth Screening captures a huge number of secondary identifiers – such as dates of birth, nationalities, locations and roles – from unstructured text. This vast expansion of context around entities leads to richer data and better recall. Standard watchlists are also enriched with these additional properties, improving sanctions and PEP screening accuracy.
80% of AI Risk Profiles contain secondary identifiers, which is key to reducing false positives. Testing has shown that there can be as much as a 91% reduction in false positives alongside a 5% improvement in recall.
By aggregating these properties across millions of articles, Labyrinth Screening enables identifiers to be assigned to entities at a scale which is simply not possible in human-curated profiles, and at an accuracy not achievable with article-based risk evaluation.
AI Risk Profiles assemble all this information into single 360o profile views for people and companies, identifying areas of relevant risk across adverse media, sanctions lists and watchlists and PEPs.
Improve efficiency and reduce analyst workload
AI Risk Profiles offer clear benefits compared to human-curated profiles or article-based review approaches. For example, having a material risk in the 200th article in an alert is not helpful if there is only time to read the first 20. And even if an analyst reads them all, it's still likely that information will be missed.
With many financial institutions limited on the time – and associated cost – they can spend on screening each client, AI Risk Profiles offer a much faster, more efficient option. They have been shown to decrease analyst workloads by up to 10x, resulting in less operational overhead alongside improved accuracy.
As well as being quick and easy to navigate, these individual summaries deliver more targeted, relevant information to enable analysts to effectively assess risk. Intelligent classification prioritises and pinpoints the most relevant articles to review, reducing analyst workload and reducing the requirement to invest huge quantities of time.
---
Get in touch to learn more about AI Risk Profiles and request a demo