It's a phrase we've got used to hearing. An abundance of caution has proven to be an essential technique in the battle against the global Covid-19 pandemic. From masks to social distancing, from working from home to vaccines, the multitude of different ways we've learned to manage the risk of transmission has saved hundreds of thousands, if not millions of lives worldwide. It's also a critical component when considering how to protect your business against financial crime and reputational damage – adopting a risk-based approach when on-boarding and screening clients.
Just like the pandemic, it is easy to manage risk when considering just your immediate surroundings and needs. Manual, one-off searching of databases and search engines can unearth red flags such as adverse media hits, sanctioned entities and political exposure. But what about managing the risk of entire client populations of millions? The difficulty in maintaining an abundance of caution becomes exponentially more difficult when manual searching and human review doesn't scale.
Ripjar's Labyrinth screening engine now enables global financial institutions and other large enterprises to understand and manage the risks associated with all of their clients – whether old or new. The sophisticated view provides the ability to make the right decisions at the right moment, alerting on new risks when they become known, not just when they are manually reviewed. Moving from a reactive to proactive management of these types of risk means compliance teams spend less time reviewing data and can ensure that vital information is not missed.
Combining data from millions of sources including premium news feeds, the web and commercial and public watchlists, Labyrinth uses advanced Natural Language Processing (NLP) and Machine Learning to automatically identify the warning signs and alert on client risk which analysts can then fully investigate.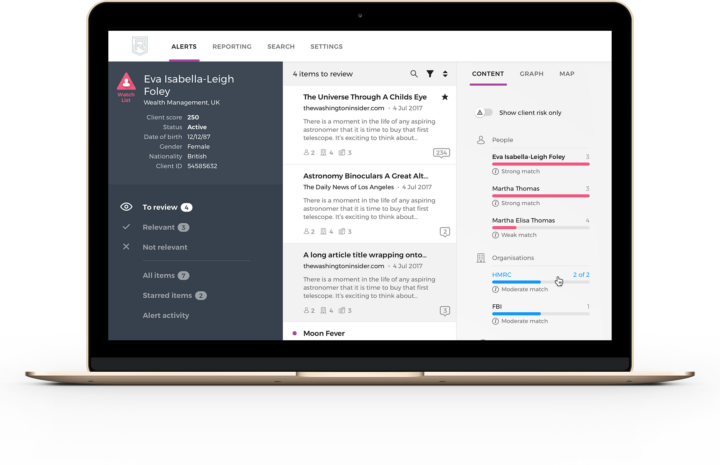 Ripjar's intelligence-grade technology provides more efficient and effective ways of detecting the hidden risk of financial crime, corruption, bribery, modern slavery and other predicate offenses that are essential to managing compliance and reputational issues. Our proprietary entity resolution technology's market-leading accuracy reduces false positives and ensures that news data in dozens of global languages, scripts and other permutations are also automatically searched to create consistent and comprehensive risk management.
With the amount of online content and news data growing every day, on-boarding and monitoring clients may require an abundance of caution to manage the clear risks of financial crime and reputational damage, however with smart technology such as Labyrinth, that risk can be managed more easily, effectively and securely than ever before.
Jeremy Annis, CEO
Ripjar