Serious and organised crime is big business. The often quoted figures are mind-boggling:
$2 trillion dollars of illicit finance are laundered annually;
The costs to the UK's economy of at least £37 Billion
These figures hide the true cost of the threat. A chronic and corrosive force in our society that survives on the suffering of millions. Illegal narcotics damage lives, corruption diverts funds away from much needed projects, the trade in illegal wildlife damages our ecosystem and could foster the next worldwide pandemic.
The alarming rise in fraud and cybercrime continues at pace, and investigators – whether in law enforcement, AML investigations teams, Financial Intelligence Units (FIUs) and the other bodies that are set up to manage risk and spot the tell-tale signs of money laundering – are all struggling to make best use of precious resources.
The only way to succeed, is to painstakingly join the dots between internal and external data – from company records which might hide a shell company in the Carribean, news articles from an on-going embezzlement trial, and sensitive KYC/CDD internal records, transaction reports or data from other monitoring systems.
Manually sifting through this data, matching unstructured reports to structured client records takes extraordinary patience and time, often meaning the dark corners of criminality remain uninvestigated and have time to flourish unabated.
This is where Ripjar's Labyrinth Investigations technology has transformed criminal intelligence and investigations work. This breakthrough data intelligence platform built from decades of experience in government, law enforcement and banking provides a framework for intelligence teams tackling criminality including human trafficking, smuggling, corruption, fraud and cybercrime.
It turns flat and difficult-to-interpret two dimensional data into rich, connected and insightful visualisations – to see criminal networks holistically from all data sources, in three-dimensions.
There are three founding principles that our Investigations platform is built on:
Data Fusion – our powerful workflow engine allows data engineers and data scientists to rapidly iterate and integrate any data source available that might help fight crime or manage risk. Existing data warehouses, clouds or external data sources which all might have their own security, policy controls or limitations to all be integrated into a single seamless 360 degree view of client or criminal risk.
As criminality evolves, so too does Labyrinth Investigations . New data sources, analytics or visualisations can be added quickly with support for common components and services and allow investigators to always stay one step ahead.
AI and Machine Learning – In its quest to tackle on-going criminality, Ripjar has developed some of the world's most advanced NLP (Natural Language Processing) and NER (Named Entity Recognition) for processing unstructured documents such as news articles, intelligence reports and other text.
Covering dozens of global languages, the technology allows investigators – often for the first time – to see and understand the hidden linkages between structured data, spreadsheets and other traditional data sources, and the vast quantities of unstructured text that is available in the public domain.
At the heart of this approach is our breakthrough in entity resolution which uses a database of millions of observed names to provide unprecedented accuracy in uniquely identifying people, organisations and locations from vast quantities of unstructured and structured data. This fused view of entities, allows Labyrinth Investigations to build a continuous knowledge graph of client profiles and their links to others – a game changer for understanding risk.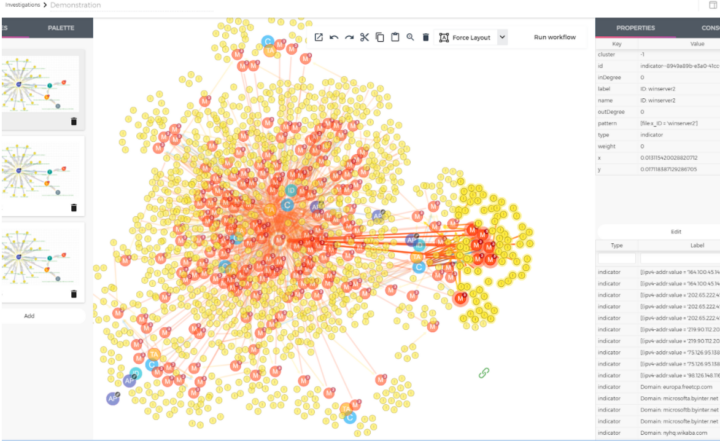 Investigations and Knowledge Management – When using AI tools like Ripjar assess client risk or investigating serious and organised crime, it is essential to have powerful visualisation tools.
Labyrinth Investigations provides state of the art link analysis software giving investigators new ways of exploring their data, following leads and finding hidden patterns. Linking to a secure centralised database of knowledge, Labyrinth Investigations gives teams working across the world the ability to collaborate, breaking down institutional silos and creating a single and complete view of the investigation that can be accessed in the future.
Exposing these technologies to KYC/CDD, AML and international law enforcement teams, we're continually enhancing our platform to service wider market needs for investigations and risk analysis. I'd be delighted to speak with any professionals working in this space and talk more about what Ripjar can offer.
Gabriel Hopkins, Chief Product Officer, Ripjar
Contact Us